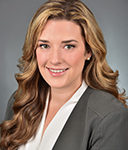 Devon Barrett, Clinical Research Assistant
Boston Children's Hospital
Otolaryngology and Communication Enhancement
Boston, MA 02115
Devon graduated from Princeton University in 2014 with a B.A. degree in Anthropology. After graduating, Devon worked as a Securities Lending Analyst at Goldman Sachs in New York City for two years before returning to further her education as a candidate in Harvard University's Premedical Post-Baccalaureate Program.
Devon joined the Department of Otolaryngology and Communication Enhancement at Boston Children's Hospital as a Research Assistant in 2016. Under the supervision of Margaret Kenna, MD, MPH, Devon has assisted in studies focusing on genetic etiologies of hearing loss.
Publications
De Trey L., Stoler J., Ogando P., Hernandez A.L., Barrett D., Manganella J., Ellika S., Kenna M., Robson C.D. Hearing Loss and Neuroimaging Findings in Patients with CHARGE Syndrome with the CHD7 Mutation. Poster presented at: Dr. M. Judah Folkman Research Day; May 10 2017; Boston, MA.
Abstracts/Posters
SEQaBOO: (SEQuencing a Baby for an Optimal Outcome) – Charting a Path for Newborn Screening. Brigham and Women's Hospital, Boston, MA. Discover Brigham, November 9, 2017
SEQaBOO: (SEQuencing a Baby for an Optimal Outcome). American Society of Human Genetics. Orlando, Florida, October 17-21, 2017