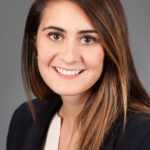 Juliana Manganella, Clinical Research Specialist
Boston Children's Hospital
Otolaryngology and Communication Enhancement
Boston, MA 02115
Juliana was born in New York City, but grew up in the suburbs of Massachusetts. She is a 2014 graduate of Simmons College where she received her B.A degree in Psychology. During college, Juliana interned at Boston Children's Hospital in the Pain Treatment Service in the Department of Anesthesiology – Perioperative and Pain Medicine, under the mentorship of Christine Sieberg, Ph.D. During that time, she wrote and published her undergraduate thesis on parental roles and influences in the development of pediatric chronic pain.
Juliana joined the Department of Otolaryngology and Communication Enhancement Boston Children's Hospital as a department Research Coordinator in 2015. Under the supervision of Margaret Kenna, MD, MP, Juliana has worked on an array of protocols centered on the genetic etiologies of hearing loss. She also facilitates Boston Children's Hospital participation in AudGenDB, an audiological and genetic database for hearing loss, in collaboration with Children's Hospital of Philadelphia and Vanderbilt University. Juliana is now a Clinical Research Specialist, where her primary focus is in clinical research education and project management.
Publications
Sieberg, C. B., & Manganella, J. (2015). Family Beliefs and Interventions in Pediatric Pain Management. Child and Adolescent Psychiatric Clinics of North America.
Sieberg C.B, Smith A, White M., Manganella J, Sethna N, Logan DE (2016). Changes in Maternal and Paternal Pain-Related Attitudes, Behaviors, and Perceptions across Pediatric Pain Rehabilitation Treatment: A Multilevel Modeling Approach. Journal of Pediatric Psychology.
Sieberg C.B., Manganella J., Manalo G., Simons L.E., Hresko M.T. (2016). Predicting post-surgical satisfaction in adolescents with idiopathic scoliosis: The role of pre-surgical functioning and expectations. Journal of Pediatric Orthopaedics.
Abstracts/Posters
SEQaBOO: (SEQuencing a Baby for an Optimal Outcome) – Charting a Path for Newborn Screening. Brigham and Women's Hospital, Boston, MA. Discover Brigham, November 9, 2017
SEQaBOO: (SEQuencing a Baby for an Optimal Outcome). American Society of Human Genetics. Orlando, Florida, October 17-21, 2017