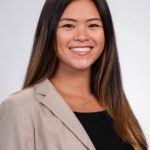 Edina Shu 
Clinical Research Project Manager
Massachusetts Eye and Ear
Boston, MA 02114
Edina grew up in three countries and is fluent in Chinese Mandarin, Spanish, and English. She received a B.S. degree in Kinesiology from the University of Massachusetts Amherst in 2017. In college, she did community-based research for two years with the pediatric population in Springfield, MA, studying the prevention of childhood obesity. After graduating from college, Edina worked as a coordinator in clinical research and has gained a lot of knowledge on how to conduct clinical research projects. Now, as a project manager at Mass Eye and Ear, she ensures the successful delivery of all study-related activities at the project level.