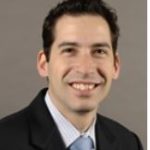 Michael S. Cohen, MD

Assistant Professor of Otolaryngology
Harvard Medical School

Director, Multidisciplinary Pediatric Hearing Loss Clinic
Massachusetts Eye and Ear
                                      243 Charles Street, Boston, MA 02114
                                      Specialties
                                      Pediatric Otolaryngology
                                      Otology and Neurotology
                                      Board Certification
                                      Otolaryngology-Head and Neck Surgery
Dr. Michael Cohen is a fellowship-trained pediatric otolaryngologist who has a special interest in caring for children with hearing loss and chronic ear disease. Dr. Cohen earned his medical degree from New York University School of Medicine in 2004 prior to completing his residency training in otolaryngology—head and neck surgery at Temple University School of Medicine in 2008, where he also served as the Chief Resident until 2009. Dr. Cohen then went to the Children's Hospital of Pittsburgh of UPMC, where he completed a postdoctoral scholar training in 2010 and his pediatric otolaryngology fellowship in 2011. Dr. Cohen now serves as Director of the Multidisciplinary Pediatric Hearing Loss Clinic at Massachusetts Eye and Ear and is an Assistant Professor of Otolaryngology at Harvard Medical School.
Dr. Cohen has been an invited speaker at national and international meetings and has authored numerous peer-reviewed publications and textbook chapters in the field. He is also the Course Director of the two-day Harvard International Endoscopic Ear Surgery Course, which is held semi-annually at Massachusetts Eye and Ear.
Dr. Cohen's clinical focus is pediatric otology, which includes the care of children with hearing loss, pediatric cochlear implantation, and management of chronic ear disease and cholesteatoma. He also cares for children with a wide range of ear, nose, and throat problems such as recurrent ear infections, obstructive sleep apnea, recurrent tonsillitis, neck masses, and sinus disease.
His clinical research is in the area of pediatric otolaryngology, including endoscopic ear surgery, cochlear implantation, pediatric otology, unilateral hearing loss, pediatric hearing loss, chronic ear disease, otitis media, obstructive sleep apnea, and Eustachian tube dysfunction.
Select Publications
Intracapsular versus extracapsular tonsillectomy – comparison of pain. Cohen MS, Getz A, Isaacson G, Gaughan JP, Szeremeta W. Laryngoscope 2007 Oct; 117(10):1855-1858.
Injection laryngoplasty for type-1 laryngeal cleft in children. Cohen MS, Simons JP, Maguire RC, Mehta DK. Otolaryngology-Head and Neck Surgery, 2011 May; 144(5):789-93.
Tympanostomy tube placement and vestibular function in children. Cohen MS, Mandel EM, Furman JM, Sparto PS, Casselbrant ML. Otolaryngology-Head and Neck Surgery, 2011 Jun 15.
Congenital cholesteatoma in siblings. Landegger LD, Cohen MS. The Journal of Laryngology and Otology, 2013 Nov;127(11):1143-4.
Pediatric temporal bone fractures: current trends and comparison of classification schemes. Dunklebarger JL, Branstetter B, Lincoln A, Sippey M, Cohen MS, Gaines B, Chi DL. Laryngoscope 2013 Dec 17. [Epub ahead of print]
View a complete list of publications on pubmed.gov


Abstracts/Posters
SEQaBOO: (SEQuencing a Baby for an Optimal Outcome) – Charting a Path for Newborn Screening. Brigham and Women's Hospital, Boston, MA. Discover Brigham, November 9, 2017
SEQaBOO: (SEQuencing a Baby for an Optimal Outcome). American Society of Human Genetics. Orlando, Florida, October 17-21, 2017