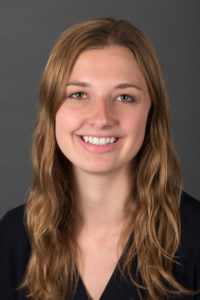 Julia Perry
Clinical Research Assistant  
Boston Children's Hospital
300 Longwood Ave.
Boston, MA 02115
Julia grew up in Andover, Massachusetts. She graduated from Wesleyan University in 2019, where she completed her BA in Biology and Science in Society. During her time at Wesleyan, Julia volunteered as a Clinical Research Assistant at Middletown's Community Health Center and contributed to two major research projects. In the first, Julia was involved in the development of a screening for intimate partner violence in LGBTQ populations and in the second, she evaluated providers' comfort in administering the health center's sexual risk assessment questionnaire. During the summer before her last year at Wesleyan, Julia completed independent work in Lucknow​, India, where she collaborated with a team of doctors to carry out a comprehensive medical screening program for primary school children.​
Julia joined the Otolaryngology team at Boston Children's Hospital in June 2019 as Dr. Kenna's research assistant. She looks forward to contributing to meaningful research that aims to improve care provided to children with hearing loss.